Does working out or going to the gym, kill your mood. Worry not I have a solution for you – a Home Workout schedule, which you can follow from the comfort of your home.
How?
First, you need to set your mood. Decide your goals, and then we will start accordingly –
Let's say for this tutorial our aim is to lose Belly Fat. So how do we get started?
Our mood has been set and goals decided. But have you started watching your diet what are you eating? You don't need to only control your diet when you go to Gym or when your trainer forces you to.
Controlling what you eat is the most important thing in any kind of workout and even while home workout.
So how do we begin with Home Workout?
You will find a companion on this journey which is an amazing application – Cure.fit.
Let me give you an overview of this app and its working –
Here's the screenshot of the interface you will see once you set up the application –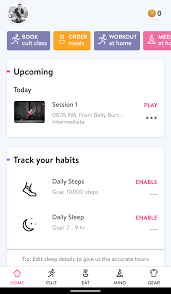 As you can see there are sections at the bottom named home, cult, eat, mind, gear.
The HOME section houses all the upcoming and completed activities for your home workout or Cure.fit centers
Next, comes the CULT tab, which provides two options At Center, and At Home.
Then, the EAT tab lets you stay on your goals, where you can either healthy food or refer recipes you can cook. 😋
The MIND tab again an important feature of this app, it lets you exercise your mind anytime anywhere.
Unsure, about your gym wear, you will be spoilt from the wide-range of choices the GEAR tab provides.
Now, let us begin with our Home Workout, Belly Workout is just an example. You can choose your goals from –
Weight Loss Workout
HRX Workout
Belly Burn Workout
Get Lean Workout
Get Strong Workout
Arms, Chest and Back Workout
Mobility Workout
Abs, Butt and Thigh Workout
Strength and Conditioning Workout
Strength Yoga
Each workout series contains up to 6 sessions which you can start with and pause and replay as you would like.
And each session starts with the different varieties of warmup which literally warms up your muscles and gets your body ready for the session and in the end it has a cool-down section to help you cool your body down after the session.
Without any further ado, let's start with our Belly Burn series –
Here we will start with the Beginner Level, next in this series will be –
Intermediate
Advanced
Fat Burn Advanced
Fat Burn Advanced 2
Abs & Obliques
This is quite sure it will help you get your belly burning and reduced in a few weeks.
Session 1, starts with Flutter Kicks, Standing Knee to Elbow, Slow Climbers
Session 2 – Plank, Side Punch, Cross Chops
Session 3 – Plank Jacks, Side Jack Knives, Front Kicks
Session 4 – Flutter Kicks, Slow Climbers, Cross Chops
Session 5 – Side Punch, Plank Jacks, Side Jack Knives
Session 6 – Side Plank, Sprawl, Side Punch
You can even set Reminders for your Home Workout or even for the Center session, which will remind you before the session at your specific timeslot.
Here's a video you can refer to how your HOME WORKOUT sessions will be easy as ever –
---
Haven't started with your Home Workout?
What are you waiting for? Download the Curefit app to access this and 50+ video workouts for free.
This is Suman, signing off guys. Do drop in a comment and please share if you liked the post with your friends and family. You can also, follow my journey on my Social Handles like Facebook, Instagram, where I share some tips and tricks.