Looking for Free SSL, let's see all the details related to the SSL and how you can find and Setup the Cheapest of Free SSL for your blogging or personal website! Let's start with the basics first –
What is SSL?
SSL is a Secure-Socket-Layer, which in simpler terms, helps to encrypt any communication between your website's visitor and your website.
In modern times, users are reluctant to visit websites that are not secured. Basically, an SSL certificate on your website, adds a lock in the front of the site URL. Just like you can see in the URL above or in the screenshot where to look –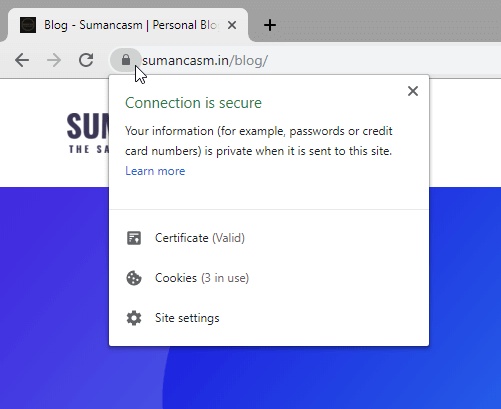 Requirement?
And more commonly, it is required on a website where you need to receive or make any transactions. The SSL will make sure your transactions are made in a secure manner, without any security breach of your confidential data.
How to Install?
You can contact your web host where you have hosted your website. In my case, the website was hosted on GoDaddy and I had to pay a nominal fee for the SSL for a year.
But in most cases, you must find this for free and will be provided by your hosting provider.
Now, to make your WordPress website secure using SSL, and don't worry it's very simple to add an SSL on your WordPress website.
You can make your WordPress website secure just with a WordPress plugin called – Really Simple SSL.
Now when you have the SSL in your hosting account.
Steps to Install –
Just search for the WordPress plugin from the Plugins page under the WordPress Dashboard.
Install and Activate it.
Now, you will be taken back to the Plugins page and will see a banner with all the information about the plugin on the top of the page.
Below that click on Go ahead, activate SSL!
That's it, your site is now secure for transactions and for your users to visit. 🙂
Plugins Available to Force SSL
Isn't it, super easy? So if you have just set up your website, and looking to secure SSL. Go through the above steps and let me know, how it goes.
Preferred deal for Free SSL?
There's another way by which you can definitely receive the SSL certificate for your website for FREE.
With Black Friday just around the corner, one of the best Hosting Provider is providing up to 90% off on their hosting plans plus Free SSL certificate. Isn't that awesome?
Click on the below banner and avail this limited period offer.